In recent years, the rapid development of digital technology with Internet, big data and artificial intelligence as the core has brought unprecedented opportunities and challenges to the global manufacturing industry. Under the impetus of "Industry 4.0" and "Made in China 2025", intelligent manufacturing has become the main direction of manufacturing innovation and upgrading.

As a leading enterprise in the field of satellite positioning antenna in China, Harxon is powered by two engines: technology R&D and manufacturing. With increasing capital investment and advanced management software and production equipment, Harxon actively promotes the intelligent and digital transformation and upgrade of supply chain.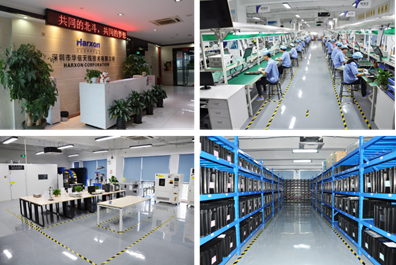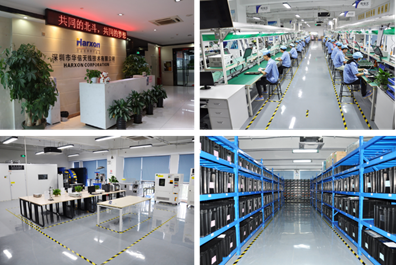 Harxon Manufacturing Base

1. High-precision Antenna Automatic Production Line Put into Production
Recently, Harxon high-precision antenna automatic production line is officially put into production. In welding process, advanced welding robots are introduced to realize automatic storage and output of parameters. Besides, it has distinct advantages of stable arc combustion, uniform composition at the connection and stable welding quality. In this way, Harxon effectively solves the quality problems caused by manual operation and improves traceability management.
Automatic Welding Robot in Operation

Compared with traditional production line, automatic production line has great advantages in saving manpower, implementing standardized operation and improving production efficiency. Productivity and efficiency have been increased, tripling the daily output; energy consumption and costs have been decreased, saving 20% manpower and reducing wasted materials. Therefore, product consistency and first pass yield rate are boosted. Defect rate is reduced from 4‰ to 1‰, factory production capacity is greatly increased with monthly production capacity up to 70,000 sets.

Automatic production line also has a positive effect on forefront design & development capabilities and supplier access criterion. Accordingly, there are higher requirements for talents in the factory. The intelligent and digital upgrade of supply chain brings about high quality suppliers, products and talents, which will definitely lead a high quality development road for Harxon.

2. Aim at Intelligent Manufacturing, Take the Road of High Quality Development
In the context of energy saving, emission reduction and carbon neutral, Harxon actively responds to the strategic deployment of high-quality development and digital transformation by BDStar. In 2013, ERP system and OA system were introduced; in 2015, PLM system and CRM system were introduced; in 2017, ESOP paperless office system was applied and more human and material resources were invested to fulfill comprehensive upgrade of anti-static facilities; in 2019-2020, MES system + test automation were put into service; in 2021, automatic production line was built and automatic production equipment was introduced. Since then, Harxon has been moving steadily towards high-level intelligent manufacturing direction.




Digital Dash Board in Manufacturing Base

Nowadays, Harxon has achieved transparency, visualization and traceability in the whole process of supply chain. Production status is monitored through the digital dash board; information of production, quality and equipment can be obtained in real time. Product traceability is realized through SN code, thus product delivery progress is clear and controllable with quality guaranteed.




Other Equipment in Manufacturing Base

3. Focus on Customer's Need, Strive to be Digitalization Leader & Industry Benchmark
The integration of BeiDou navigation with new technologies and the implementation of national "new infrastructure" strategy have boosted the demands for BeiDou satellite navigation applications. To meet the demands of various industries, Harxon builds production management system and talent team, and carries out refined production management for products with different standards.

Harxon will probe deeper into the fields involved in the supply chain, introduce cutting-edge technology according to needs, and make steady improvements in supply chain control. In this way, Harxon hops to become industry benchmark and animate the whole industry.

In the future, Harxon will keep up with BDStar's development strategy, continue to promote the transformation and upgrading of supply chain, take the road of high-quality development, and provide high-quality products and service for global customers.