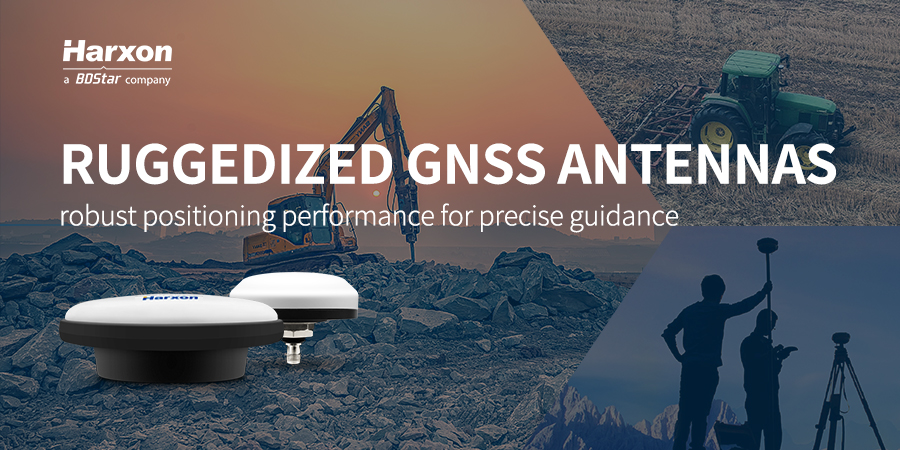 It is well known that it is always a challenge to design and manufacture sensitive positioning GNSS antennas for harsh environments that subject to high levels of shock and vibration.

Providing the best-in-class GNSS antennas for such tough environments as the agricultural machines and construction vehicles working at has been a significant and fulfilling task for Harxon, which has been cultivated and precipitated in the high precision positioning technology field with over 13 years of expertise and craftsmanship. For positioning solutions that tailored for vibration and shock environments, Harxon introduces its ruggedized GNSS antennas product line to meet specific operations requirements in the field.

Harxon wins its recognition and popularity in the market by its ultimate positioning accuracy when comes to the high precision GNSS antennas. For the ruggedized GNSS antennas product line, Harxon adopts its latest patented positioning antennas technology that support comprehensive constellations and full bands plus L-Band correction service. Due to Harxon advanced multi-point feeding technology, models of this product lines exhibit a very stable phase center with millimeter PCV repeatability.

In addition to the high gain performance even at low elevation angle that ensures ultralow signal loss, models of this product line, take the HX-CVX600A, HX-CVX603A for example, also elite themselves by employing a preposed filtered LNA(low noise amplifier) to minimize out-of-band signal noises and improve the stability of signal reception.

All of the ingenious designs offer robust GNSS signals availability, consistency and survivability in harsh environments.

In order to fully qualify antennas for tough environments, at the very beginning of the design, Harxon engineers systematically modify the structure of the antennas by taking the elements that could reduce the shock and vibration input as top priority. They optimize the layouts of the antennas PCB boards to reduce dynamic deflection, adopt a low profile, aerodynamic enclosure design to increase damping, as well as a future ready level of enclosure material to improve antenna reliability. For example, the upper cover of the HX-CVX600A ruggedized GNSS antenna uses innovative PC material that provides low density, dimensional stability over a wide temperature, low warpage, excellent long term weathering, and damp heat performance with exceptional stability while without affecting the performance of GNSS signal reception.

The bottom cover of the antenna employs aluminium alloy with lightweight, high intensity, anti-corrosion and long service life to withstand exposure to applications subject to shock, vibration, extreme temperatures, rain, snow and sunlight.

The sealing of the housing is IP67 and IP69K ingress protection rating, and has been thoroughly built for even the most challenging environments.

Besides, Harxon strictly tests its ruggedized GNSS antennas product line against industrial standards by precisely simulating operation environments for ground vehicles used in precision agriculture, smart construction and mapping, without compromise in accuracy and cost. Every piece of ruggedized GNSS antennas that manufactured by Harxon is tested to comply with the complete measurement capability of shock and vibration requirements of military level standards, allowing no room for defect products for the market.

With its robustness, reliability and high performance of precision positioning, Harxon's ruggedized GNSS antennas produce lines is welcoming more and more its homeland and worldwide users and achieves a steady market grow in precision agriculture, construction and mobile mapping.