Harxon Introduces Two New GNSS Antennas at InterGeo 2020 Digital
At InterGeo 2020 Digital EXPO that start from OCT. 13 to OCT. 15, HARXON virtually announces the addition of one autonomous antenna HX-CVX603A, one mini choke ring HX-CGX611A to its autonomous and surveying applications respectively.

By adopting a special fence structure for broadband and miniaturization, the HX-CVX603A, with only 250g, is smaller by 40% in diameter than its predecessor HX-CVX600A, a model for autonomous application that released early in April.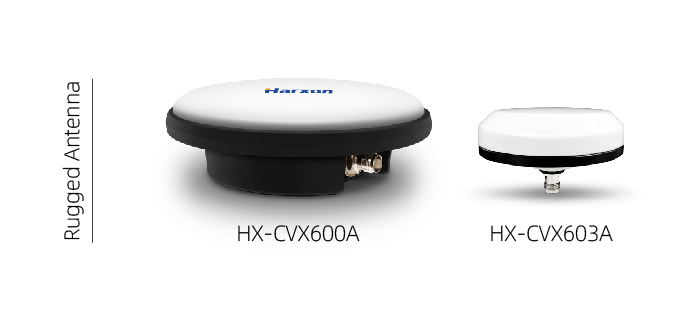 HX-CVX603A offers full support for reliable and consistent satellite signal tracking, including GPS, GLONASS, Galileo, BeiDou, IRNSS, SBAS, as well as L-Band correction service. It adopts Harxon patented phase balanced four point feeding technology and multipath suppression structure with excellent suppression effect, which ensures 2mm positioning accuracy in high vibration environment.

It is also trustworthy with its outstanding zenith gain curve. The maximum gain of L1 band reaches 4.5dB, the gain of most frequency bands in the bandwidth is larger than 3dB, the maximum gain of L2 band reaches 4dB, all of these parameters ensure reliable and consistent signal tracking. It has ideal low elevation tracking performance with most of the frequency band larger than -4dB, making it a great choice for applications that subject to high vibration, harsh environment and blockage.

The housing of the antenna uses PC+PBT material which has good flexibility and acid-base corrosion resistance. Its enclosure design is specifically developed with IP67 standard for tough environments. It uses M18 screw for installation, easy and convenient for outdoor operations.

At this EXPO, Harxon also releases another new mini choke ring antenna HX-CGX611A, adding one more competitive model to its choke ring antenna series. Comparing with its early model HX-CGX601A, HX-CGX611A is smaller in dimensions without performance compromise. The HX-CGX601A is a 3D choke ring antenna that wins popularity in the market. It has market-proven positioning accuracy, reliability and anti-multipath rejection performance. Due to the great feedback of HX-CGX601A from the market, Harxon introduce HX-CGX611A to the market, which is an upgraded version of HX-CGX601A.

The miniature choke ring antenna HX-CGX611A is smaller than HX-CGX601 by 50% both in diameter and height, with only 185mm in diameter, 148mm in height and weight 2KG only. What makes it impressive is that it maintains great performance as its predecessor.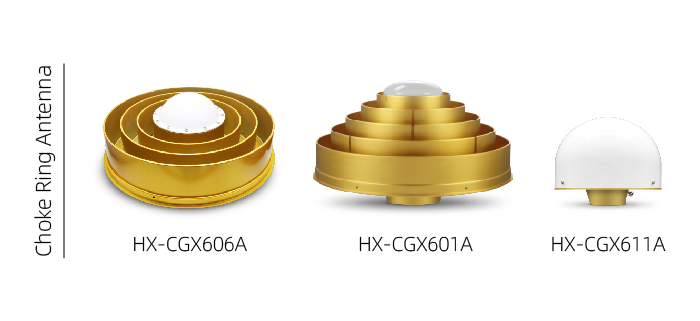 The HX-CGX611A high performance base station antenna covers full frequency of satellite signal tracking. The maximum gain in L1, L2 reaches 6.5dB, ensuring superior signal sensitivity. The adopted Harxon patented multi-point feeding technology of this antenna ensures greater phase center stability for sub-millimeter positioning accuracy, making it the best choice for base station, bridge and high building deformation monitoring, geological monitoring and etc.

It has a better gain and axis ratio of low elevation angle, with more than -4dB of low elevation gain and the axis ratio of 20 degree elevation less than 2dB, which ensures a reliable signal tracking under blockage in harsh environments.

The LNA of this antenna displays extraordinary out-of-band rejection performance, restrains unwanted electromagnetic interference from complex conditions as power grids, communication base station, or radio modems.

Besides, HX-CGX611A is designed with IP67 standard waterproof against dust and water. The MTBF of this antenna is over 30,000 hours, which ensures long-time outdoor operations in touch environments as high low temperature, high humidity and high salt fog.

With its commitment to provide better products for the market and better serve its customers, Harxon is stick to the pursuit for innovation and creativity.