Surveying and mapping in the wild is not an easy but a technical, professional and scientific job that requires expertise as well as good devices. Harxon released its first smart wireless data transceiver eRadio for RTK base station data transmission for surveying and mapping in 2018 has proved itself as a very good assistant for surveyor in the market with its great communication protocols compatibility.

It's well known that in the applications of RTK scenario, users are concerned about the incompatibility of communication protocols that result in communication failure when surveying devices by different manufacturers are applied in one technical soultion.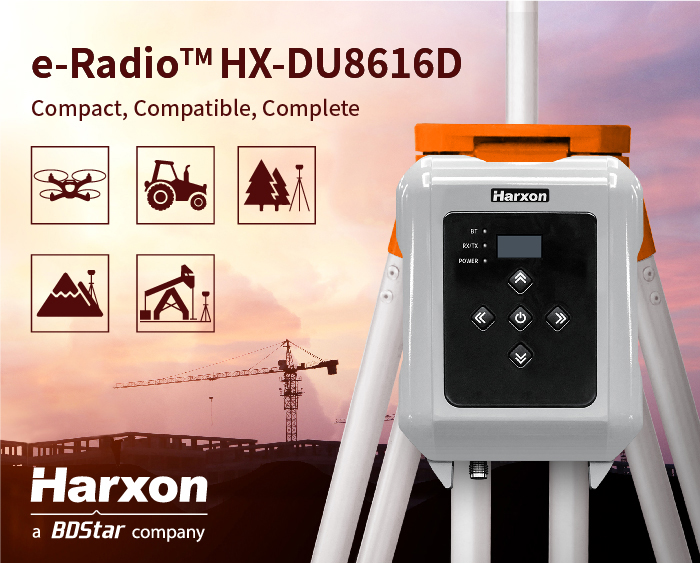 In order to free end users from such worries, Harxon eRadio equips its unique Harxon ETALK communication protocol that employed Harxon's exclusive algorithms and advanced processors. Under the same conditions, with superior error correction capability that exceeds other industrial communication protocols in terms of communication distance, Harxon ETALK protocol is capable of significantly reducing the bit error rate (BER) of weak signals and provides reliable, real-time data communications with working distance up to around 30 kilometers in open space, which has been increased as much as 20%. It is compatible with most of the mainstream radio protocols, including protocols by TRIMBLE®, SATEL®, SOUTH, TT450S, PCC, etc.

With its compact design that integrating Bluetooth and 4G for data transmission, compatible protocols that covering most of the mainstream communication protocols for wireless radio, complete solution that widely applied in precision agriculture, surveying and mapping, as well as construction and machine control, Harxon eRadio has won its recognition both from the market and end users.